Lawn Sprinkler & Irrigation System Installations Tulsa Oklahoma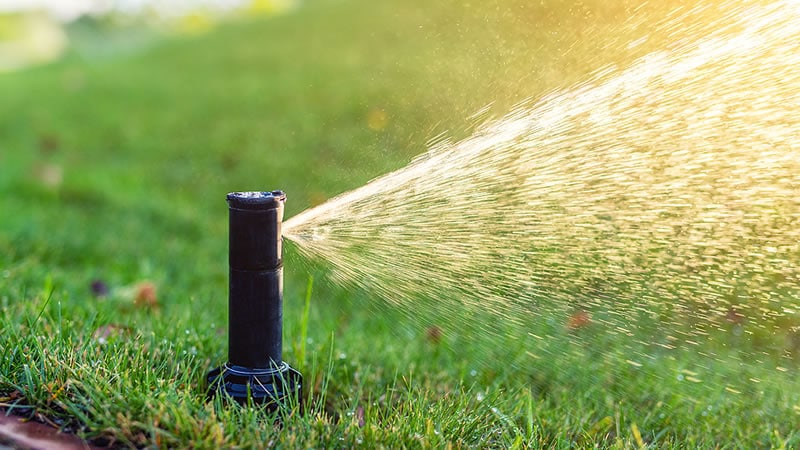 Irrigation & Sprinkler System Installers in Tulsa, Oklahoma
A good sprinkler system will save your lawn and garden and your water bill!
Looking for an irrigation or lawn sprinkler system to be installed on your property? A properly installed and setup sprinkler system not only keeps your lawn and garden looking healthy and vibrant but it tightly controls your water usage and it's precise distribution.  This actually saves you money on your water bill vs trying to water the property yourself, which is irregular and extremely inefficient.
Perfection Outdoor Solutions is a landscaping company based out of Tulsa, OK and serving both Tulsa County and Rogers County. Sprinkler system installations are an integral part of any healthy landscape and we specialize in designing and installing sprinkler systems that meet the very specific and unique watering needs of our clients lawns and gardens.  We design our sprinkler systems to maximize coverage and minimize water usage by delivering precise, timed, watering to our clients properties using the latest in Rain Bird sprinkler technology.
Sprinkler System Installations, Service and Repairs
New irrigation system installations
Lawn and garden sprinkler systems
Existing irrigation system repairs
Irrigation blowouts and servicing
Residential irrigation systems
Commercial irrigation systems
Complex irrigation problem solving
How Does Your Irrigation System Save Water?
Irrigation systems have been used by civilized society for thousands of years, which has given us a lot of time to refine and improve the way we do things. Modern day irrigation systems don't just deliver water where it's needed most, they save water too because of the precise distribution control less water goes to waste!
Without giving too deep of an explanation your irrigation system will save you water because it's strategically placing the water on your lawn or garden using a computerized controller that routes the water through the appropriate zone and distributes it using special sprinkler heads. A properly installed irrigation system will be able to evenly distribute the water for maximum effect.
A properly setup sprinkler system will water your lawn and garden more efficiently without wasting water on places it's not needed such as hardscaped surfaces like a driveway, sidewalk or patio.
Our goals when installing an irrigation system on a customers property are making sure we're distributing the water efficiently to the zones that require it. We also make sure the system is designed to operate trouble free and will be easy to maintain for our customer in the future.
How Do Sprinkler System Zones Work?
If you're not familiar with irrigation or sprinkler systems yet, you might have heard the term "irrigation zone". When planning and installing your lawn or garden sprinkler system we'll be dividing your property up into zones. By zoning your property we are ensuring that Zone A (or Zone 1) is going to receive X amount of water for X amount of time and Zone B (Zone 2) is only going to receive Y amount of water for Y amount of time.  There could be many zones depending on the complexity of your lawns, gardens, and landscaping.
The establishing of your sprinkler zones allows your sprinkler system to discharge precise amounts of water for fixed periods of time depending on the particular needs of that section of your property.  This reduces water usage significantly, while still keeping your lawns and gardens vibrant and healthy.
Solving Complex Irrigation System Problems
Do you have an existing irrigation system in place that is inadequate or not functioning properly?  This is one of the reasons it's important you choose a sprinkler company that employs certified irrigation technicians.  There are a number of un-qualified irrigation companies providing sprinkler system services to customers but when the contractor decides to cut corners you don't know about (because it's underground and you can't see it) it's going to cost you money down the road.  It's not cheap to dig up and repair a poorly installed sprinkler system.
Common Problems We See With Sprinkler Systems:
Incorrectly installed sprinkler heads
Using the wrong type of sprinkler heads
Timers running for too long
Sprinkler zones not coming on when they are supposed to
Underground pipe leaks
Poor and inefficient sprinkler layout
Residential Irrigation Installations
Building a new home? Renovating your landscaping? Sick of your dead or dying lawn and gardens because of your irregular and inconsistent watering?
A properly installed sprinkler system for your residential property could be the answer to your watering woes.
Residential irrigation installations
New landscaping irrigation installations
Lawn sprinkler system installations
Townhome or HOA sprinkler installations
Winterizing residential sprinkler systems
Spring sprinkler system start-ups
Whether you manage a busy townhome or condo or HOA complex in need of an irrigation system or you have a private residence you'd like a system installed and maintained we'll be able to provide you with a great sprinkler solution.
Commercial Irrigation Installations
If you own or manage a commercial property with intricate landscaping and gardens or large grassy areas you want to look their best then you already know the importance of a sprinkler system for your property.
Commercial landscape sprinkler installations
Sports field sprinkler installations
Commercial sprinkler maintenance
Winterizing (blow outs) and spring sprinkler system start-ups
Whether you're building a new commercial development or installing some new landscaping on an existing property we can plan, install, correctly setup and professionally maintain an irrigation system to meet your properties specific and unique watering needs.
How Much Will a New Irrigation System Cost?
That is the million dollar question right there! It's impossible to give someone an accurate or even ball park price for their sprinkler system installation over the Internet. There are just too many variables that must be factored into our equations.  For that reason a site visit and consultation is really the only way (and best way) to move forward.
During a site visit we'll be taking accurate measurements, getting a feel for the lay and size of your land and taking note of the different plants, trees, and grassy areas that require watering.  We can determine how much water is needed and for how long.  After we've got these little details an accurate estimate can be put together for you rather quickly.
Why Choose Perfection Outdoor Solutions To Install Your New Sprinkler System?
When you choose Perfection Outdoor Solutions for your sprinkler system services you're partnering with a small team of talented sprinkler system specialists who genuinely care about the health of your property.  With our knowledgeable team, professional equipment, and high level of workmanship you can count on having a lawn or garden sprinkler system that will keep your landscape healthy for many years to come.
If you would you like to schedule an estimate for a new irrigation installation please give us a call (918) 984-7336 or fill out our contact form and someone will be getting back to you shortly to schedule your appointment.