Landscape Design Tulsa, Oklahoma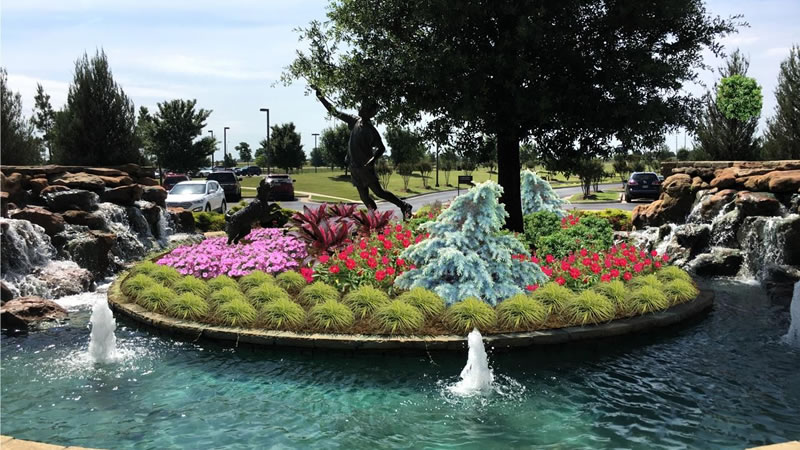 Landscape & Garden Design Tulsa, OK
Great looking professional landscaping design and ideas
Do you want to do something new with your garden beds? Are they overgrown, bare or full of weeds? We are an experienced team of landscapers with an intricate knowledge of the processes, procedures, materials, and various plants that make up a beautiful landscape.  Whether it's for your private residence or a commercial property such as an HOA or condo association.
What Type Of Landscape Are You Looking For?
Do you want to design and install new garden beds?
Are you looking for more color in your landscaping?
Are you looking for a low maintenance landscape?
Are you looking for help selecting plantings?
Do you want to incorporate a new patio or walkway?
Do you have a sloped property and need retaining walls?
Perfection Outdoor Solutions is a landscaping contractor based out of Tulsa, OK and serving both Tulsa County and Rogers County. We specialize in providing our clients with landscape design and consulting services to help them improve the appearance of their property.  Whether you're wondering what to do with an area you've just cleared, what to plant in your garden beds, how to implement a nice landscape on a sloped property, or you want to redesign your entire front or backyard, we'd be happy to help.
Click On Any Photo To Enlarge
Our Landscape Design Process
Landscape design is a very personal service and it's not as straight forward or as easy as you might think.  As professional landscapers we know and understand how to create a beautiful landscape within a given amount of space.
We know the various types of plants that are most sustainable in our area (zone 7A) including native species, we know how to design a landscape that can reduce your maintenance requirements, take advantage of the existing contours of your land, and make your property look amazing at the same time.
The process begins by requesting a consultation with us and we'll arrange a date and time to come and meet you at your property.  We want to listen to your ideas and view your property so we can get a good idea of how to best implement what you'd like.
We also need to give careful consideration to your available space, the position of any existing trees or hardscaping such as patios or decks, the distribution of sunlight, drainage, and more.  We can work with your ideas and offer helpful suggestions from a professional point-of-view that you may not have even thought of.
Choosing The Right Plantings
One aspect of landscape design that many people don't consider when embarking on a new landscape project is how the plantings are going to look and affect the landscape as they grow and mature.  The landscape you install this year certainly might look a little different in 3 to 5 years time.  It's an important part of your landscape project you need to be thinking about.
That Dreaded Budget Word
The ultimate deciding factor in your new landscape is going to be your budget.  We have no intention of showing you something or presenting ideas to you that you can't afford.  We are very creative and can work with your budget to come up with a beautiful landscape you and your family can enjoy.
If you'd like to schedule a consultation with us to discuss your new landscape design ideas we'd be happy to meet with you.  Please call (918) 984-7336 or fill out our online form and we'll get right back to you.